Shepley Music Festival
During the first half of 2019 Sayers Solutions was assisting Shepley Spring Festival by matching stall holders, sponsors and advertisers to help support the Festival in May.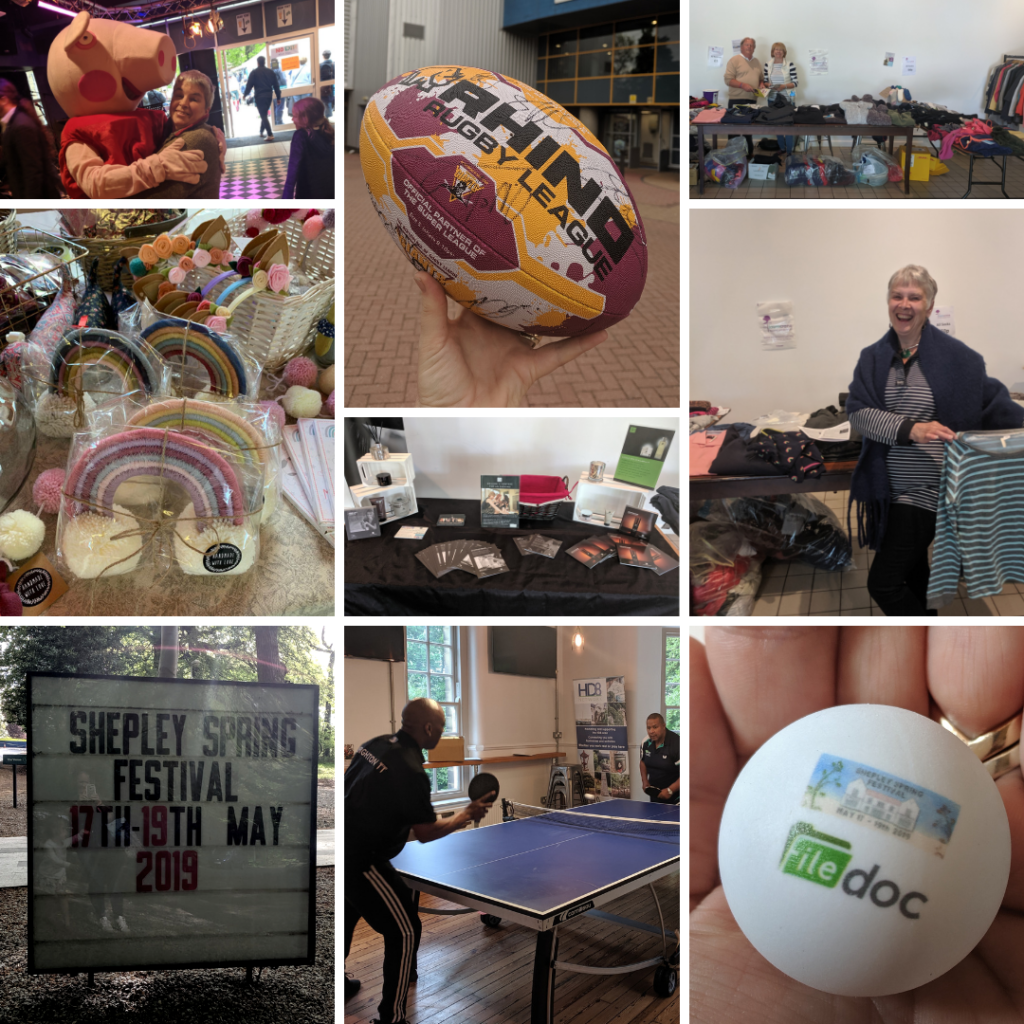 The Market Hall offered a variety of items for festival attendees to purchase. There were a handful of stands from the folk festival circuit, including musical instruments and items, handcrafted items and face painting.
Sayers Solutions brought along local retailer and creator of handmade decorative items for the home, Fleur and Grey. Sophie brought her beautiful items, which can usually be seen in her shop in Skelmanthorpe, Huddersfield.
In the hall was also Jackie Howley and a few of her Temple Spa team, Lisa from Body Shop at Home and Gemma from FM Fragrances.  Sam from Utility Warehouse was in the bar area and able to chat with festival goers and introduce the benefits of the discount club and Jake from Zero Yorkshire brought his van-shop, which can usually be seen at markets across West Yorkshire.  Jake sells plastic free items, including bamboo toothbrushes, reusable makeup cloths, and herbs, spices, oats and coffee, amongst much, much more.
The Laura Crane Youth Cancer Trust for me was the success of the weekend – although the Edward II concert on Saturday evening was pretty special. The Laura Crane Youth Cancer Trust brought their eBay shop; a beautiful range of clothing donated to the charity to raise funds. The Next PJ's and the soft pashmina scarves were easy pleasers and the outdoor jackets and hoodies were a firm favourite.
There was even one lady who acquired her whole wardrobe from the Laura Crane Trust stand, as she had forgotten her suitcase – she had the wine and knickers, because apparently you always pack these together …. When the hall was open, there wasn't a moment that there wasn't someone buying something from the stand.
Another highlight was FileDoc and their Table Tennis exhibition matches and coaching. Godfrey Gabriel, Managing Director of FileDoc is also a passionate player and coach for the Huddersfield Table Tennis Team. FileDoc also brought a bucket full of branded table tennis balls for players to go home with.
Kirklees College was on the wrist of every festival goer as the sponsors of the wristbands and other local businesses – Stafflex Reliance Precision and Alan Simmons Music – benefited from featuring in the programme. Both items are keepsakes and so will continue the exposure during moments of reminiscing.
Several of the stands also donated prizes, along with Huddersfield Giants with their generous donation of a signed ball, for a raffle which was drawn on Sunday evening.
The whole festival was a great success, and everyone seemed to enjoy themselves.
The new potential home of the Shepley Spring Festival, Storthes Hall, is the perfect venue for every event. They host weddings, business meetings, networking events and even music festivals and is also a lovely place to chill out with the family and friends. A hidden gem enclosed in woodland, not 15 minutes from Huddersfield centre and the M1.
Sayers Solutions would like to thank Shepley Spring Festival for letting us get involved and for their hard work, pulling together this amazing festival bringing only the best artist from the folk genre, attracting local traditional dance teams, bringing joy in their passion and skill – have you seen them dancing with swords? Its mesmerising!! Without the hundreds (probably thousands) of volunteer hours worked to run the festival it wouldn't be possible,
Sayers Solutions often matches organisations, utilising the contact network built up from 9 years of networking and working in Huddersfield / Wakefield corridor, based in the HD8 area of Huddersfield.
If you are looking for a product or service, and wanting to develop your business, then please get in touch and we can see how we can help.