Kirklees Conference #MYCK16
The night before fsb conference.
In the event of trying to make myself blog more often, I have promised to blog on my fsb conference experience and so I have decided to start this evening, the night before the conference starts.
We have just arrived in Glasgow and checked into our hotel. I have unpacked my bags and am waiting for my colleague to knock on my door, indicating that he is ready to go down to dinner.
It has been a busy day today, mostly on my feet at the Kirklees Conference helping out on the fsb stand and then a 5 hour drive to Scotland.  Okay yes, I didn't actually drive myself, but still its hard work!
The Mid Yorkshire Chambers of Commerce Kirklees Conference #MYCK16 was a great experience and quite different from previous years. I only managed to listen to 2 speakers; my Toastmasters friend Chris Buckley, who delivered his speech that he's been practising at our meetings for the past few months, and a motivational speaker Lee Jackson. Both of course were very good.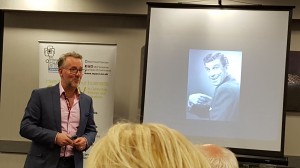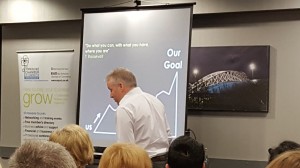 I also didn't walk the exhibition hall like I normally do (around and around and around and around), as I had a place to stand and be greeted with the other fsb representatives.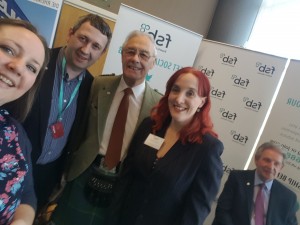 This year they didn't have the pods like they have had at previous conferences and my colleagues and I were undecided whether it was a good thing or not.  We agreed that it made it less intimidating and it was very nice to be able to see down the hall, as well as speak to your neighbours easily, however it also made it look less …. hmmmm whats the word … formal? Is that the right word?  One of my colleagues said that she prefers the pods, as she likes to know her territory.
It was disappointing not to have a programme to flick through, however  there was not half as much activity as previous years and so an A4 sheet listing the Speakers on one side and the Exhibition Stands on the other side was obviously quite sufficient.
I thought the tables in the middle of the exhibition hall were well placed, as it is a relief when you are wandering around (and around and around …) to take a load off and network with your contacts or make new ones, however it wasn't until the end of the day that I saw there were drinks were being sold.  And I wonder if food was actually being served from there as well, although several led me to believe there wasn't anywhere to get food (apart from Costas or the pub).
It was really nice to see so many people that I both see regularly and also those that hide away, and only present themselves from year to year.  I best not mention who as I will accidentally miss people off and I'll never be forgiven!
Now (I have been to dinner and taken my makeup off) I am looking forward to the fsb conference tomorrow, for what I imagine will be a totally new experience.  Over dinner we have been revisiting the Agenda to get an idea of what to expect, however we will just have to wait and see.
I hope that you get to read my subsequent blogs describing the experience at fsb conference and sharing the jewels of knowledge gained.
Perhaps you would like to follow me on Twitter @SayersSolutions or Facebook Page @SayersSolutionsPage to receive instant updates.
Were you at Kirklees Business Conference? What were your thoughts and feedback?