Part 6: GDPR and do no harm
In this series of blogs on GDPR, I'm helping small businesses understand what this change in our data protection law will mean for them and also share tips and advice I've found useful for my own business, Sayers Solutions – Marketing and Strategy for Small Businesses.
Catch up on the previous blogs here:
To recap, GDPR stands for General Data Protection Regulation and will replace our current data protection laws from 25th May 2018. It is the biggest change to our data protection laws for over 20 years and is being introduced to strengthen EU citizens' privacy rights.
Do no harm
So far in this blog series I have talked about lead source, valid reasons for processing data and how long to keep data, and the benefits of managing a do not contact list. Another interesting topic when thinking about GDPR, is the element of 'do no harm'. Which I guess is what prosecution will depend on. Are you doing harm to the individual by keeping or acting on the information that you keep?
The interesting element here is that this includes receiving nuisance phone calls and emails. Are you harming someone by potentially wasting their time by making them answer calls and delete emails? This is an aspect that I think small businesses need to be most mindful of.
"As the Data Protection Network points out, 'organisations will still need to ensure they can establish necessity and balance their interests with the interests of those receiving the direct marketing communications'.
That means a post every week could be hard to justify, but quarterly mail to let users know about charity work may seem to be more balanced."
(Econsultancy, July 2017)
Source: https://www.econsultancy.com/blog/69253-gdpr-10-examples-of-best-practice-ux-for-obtaining-marketing-consent
This reinforces my point that it is important to be interacting with an engaged following.
The eConsultancy (2017) article also uses Channel 4 as a best practise example for providing clarity for subscribers on what they are signing up to. In 2012, the broadcaster used a video campaign to prepare viewers for compulsory registration.
"When registering for a Channel 4 account on the All 4 website, you can see Alan Carr featured on the right hand side and a link to the video ('Our viewers promise'). There's a clear heading – 'how we use your information' – and the text mentions tailored advertising, and sits underneath copy detailing 'reasons to register'." (eConsultancy, 2017)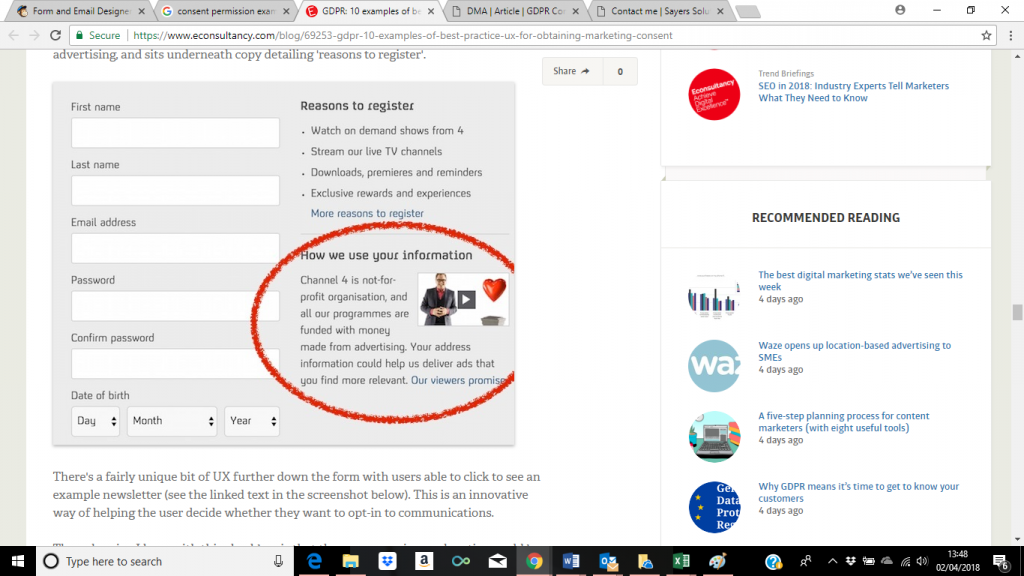 To help manage your engaged subscribers and tidy your databases, at Sayers Solutions I recommend to clients to have an automatically generated date, based on the "created" date, "reason for processing" and further engagement for the gradual deletion of data for direct marketing.
It is good practice to review and take into account whether people are opening your emails and identify those who have not done so in the last year, per say. Sayers Solutions recommends sending them an email asking if they still want to be on your mailing list and offer the chance to "re-subscribe" to stay in touch.
Sayers Solutions then recommends moving 'those that do not re-subscribe' from the "prospect" to "not opened in one-year" list. 
You might want to go further and look at those on your mailing list who have, say, not 'clicked' in the last three months. The frequency of the reviews completely depends on your company, as well as the type and frequency of the communications that are sent, as well as industry standards.
Sayers Solutions recommends that you then reduce the frequency of the emails sent to these lists, with only critical or extremely interesting information being sent, along with an annual reminder email; letting them know they can re-subscribe to your more regular communications.
Sayers Solutions also recommends setting a time limit, maybe three years, for them to re-subscribe to your newsletter, after which you can finally make the decision to delete the data.
The theory goes, if they miss your messages, then they will re-subscribe, or they will find you through your other marketing techniques. 
Updating your lists through this filtering process will help provide a more manageable way to control your data and will ensure that you are communicating with an engaged audience.
Look out for my next blog which provides a useful summary of my thoughts on GDPR and best practice for small businesses.
Want more now?
Download the entire blog series in PDF here for free
If you would like to discuss your GDPR compliance, or any other marketing activity, then please get in touch.  Sayers Solutions are well connected with experts on this matter and would love to help support your business.
If you want to arrange a conversation, we can chat over the phone or potentially skype. Give me a ring on 07790705223 during reasonable business hours (yours might be more generous than mine, so please don't ring too early! #SchoolRunMum).
If you are in the Huddersfield/Wakefield/Leeds area let's arrange to meet to discuss this or your marketing activity further.
Or email me through the website contact form www.sayerssolutions.co.uk/contact-me/
Like what you've seen?
If you've found this article useful and want to receive more carefully crafted advice and support tailored to small businesses please join our mailing list: http://eepurl.com/dp5eQz
Yours,
Merewyn Sayers
Sayers Solutions – Small Business Marketing and Strategy
www.sayerssolutions.co.uk