#GDPR Chapter 2 – Mailchimp lists and ability to unsubscribe and update/add preferences
Sayers Solutions sends out my email marketing messages via Mailchimp. In this article I will talk about mailing lists, displaying the reason why on the list, the ability to unsubscribe and update preferences.
This enables businesses to demonstrate transparent and granular consent for the marketing messages according to GDPR and PECR stipulation.
To recap, GDPR stands for General Data Protection Regulation and has replaced previous data protection laws from 25th May 2018. It is the biggest change to our data protection laws for over 20 years and is being introduced to strengthen EU citizens' privacy rights.
I have written a series of articles reflecting on some of the areas that will impact businesses, offering tips and advice that will help you to implement best practice when managing your data, in particular when executing marketing activity. Click here to read Chapter 1.
Email Footer Content
To create a mailing "list" in Mailchimp you must add a message at the end of the email – which is displayed alongside the unsubscribe and update preferences options.
Mailchimp suggests you "briefly remind your recipients how they got on your list".
This is how it appears on the email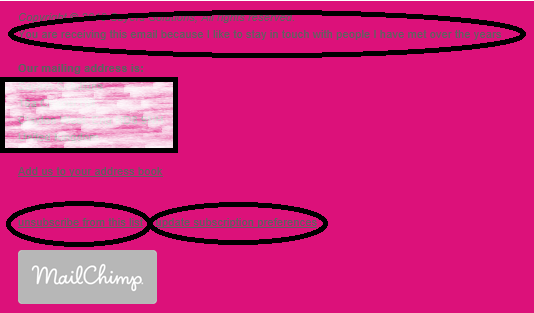 (sorry, my pink background with grey text does make it hideous to read, so this is on the list of improvements for the future. However, in defence up until now this has not been of any interest to anyone but has always been there.)
In Text mode it appears like

This is how it looks on the list settings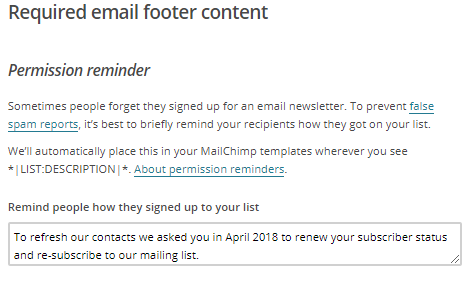 Sayers Solutions has recently updated these messages to include links to our privacy policy; this might be something you might like to consider.
There are occasions when contacts might be added to 2 or more lists
For example, up until now Sayers Solutions has created lists of prospects according to when and how they were introduced, and it is quite usual to meet people more than once on the networking scene. Whilst Sayers Solutions tries to ensure that a prospect is only added the first time they are introduced to Sayers Solutions – identifying the original "lead source" – it is quite possible that duplication happen.
Sayers Solutions has also had lists for customers, potential partners, suppliers, community groups; with emails having different tones and focus. Which presents the opportunity for the same person to appear on several list – imagine meeting me regularly at networking events, being a customer, someone I collaborate with, sell to, as well as someone who participates in community interest and business groups and associations ….. God heavens, who has time for all of that #selfemployed.
So, I massively apologize if my recent #GDPR projectile vomiting emails hit you several times. However, if you believe that the individual should be informed about the various places their data is held it is quite understandable and complaint of Sayers Solutions …. *coughs*
To check which list your email address and other personal details are associated to, please visit the "small print" at the bottom of my emails, and if you no longer wish to be on that email list please press unsubscribe. However at the same time you can also update your preferences and information.
Update your preferences
Mailchimp also gives you the ability, as mentioned above, to update your preferences according to the list options. However Mailchimp doesn't give you the option to see what data is already held (whether this is a good point could be debated) … So, at any time you are able to update your details and preferences.
Unsubscribe
Sayers Solutions is active on social media and networking in the Huddersfield and wider West Yorkshire area, so if you are happy to keep in touch with me that way and you don't want to keep receiving marketing emails from Sayers Solutions, then please unsubscribe from our lists.
However, Sayers Solutions has a variety of reasons for contacts and associations – for example to share tips and understandings, marketing and business news, HD8 Network or FSB updates, and share partner, customers and collaborator news.  So, if you are or want to be super engaged with my messages …
Re-subscribe to our new "As of 25th May 2018 list"
Sayers Solutions hopes this article has been useful for you and has given you options over the data Sayers Solutions holds on you, as well as explained how you can manage your data, especially using Mailchimp to organise your mailing lists.
If you are still looking for help to figure out GDPR my first suggestion would be to check out the ICO website. Secondly, I would recommend you check out your FSB or other association advice on how you should handle your GDPR compliance.
Want to know more?
If you would like to discuss your GDPR compliance, or any other marketing activity, then please get in touch. Sayers Solutions are well connected with experts on this matter and would love to help support your business.
If you want to arrange a conversation, we can chat over the phone or potentially skype. Give me a ring on 07790705223 during reasonable business hours (yours might be more generous than mine, so please don't ring too early! #SchoolRunMum).
If you are in the Huddersfield/Wakefield/Leeds area let's arrange to meet to discuss this or your marketing activity further.
Or email me through the website contact form www.sayerssolutions.co.uk/contact-me/
Like what you've seen?
If you've found this blog series useful and want to receive more carefully crafted advice and support tailored to small businesses please join our mailing list: http://eepurl.com/dp5eQz
Look forward to hearing from you,
Merewyn Sayers
Sayers Solutions – Small Business Marketing and Strategy
www.sayerssolutions.co.uk